Tofino Tours – Summer Wildlife Watching
While WCAS is famous for bear and whale watching tours in Tofino—summer weather means even more interesting wildlife can be seen on our tours. Whether (pun intended) you join us for an accessible eco-tour on Vancouver Island or organize a custom group tour on our enclosed cabin vessels, summer weather means you have a chance to have some special seasonal experiences.
With local owners and guides, we know how to keep cool when the weather gets hot in Tofino, here is some of our tips and special sightings to experience…
Summer Whale Watching in Tofino? No Sweat! 
With our Transport Canada approved vessels we can catch a glimpse of the Pacific Rim Park's wildlife while still catching some rays! Insulated (aka hot and sweaty) safety suits are not required to tour with us due to the design of our Transport Canada certified vessels. Adventure in the sunshine on our 360 degree viewing deck. Summer means whales and bears are active as they feed. Warmer waters also bring some cool summer visitors… see below.
Enjoy the views without breaking a sweat. Book your adventure now. It's a breeze!

See some rare summer wildlife in Tofino along with Pacific Ocean whales and BC Island bears!
Big sun means Moon Jellyfish will bloom! As the weather heats up it is possible to see Moon Jellyfish on a Tofino eco-tour and the best place to do it is from the WCAS Whale Watching Deck. The top-down view is a treat when the Moon Jellyfish are about. Discover more about Tofino's best whale and wildlife watching boats.



Tofino wildlife tour tip: Moon Jellyfish have a mild sting and unlike most other "jellies" they don't have long stinging tentacles but hundreds of short fine tentacles at the opening to their "bell".
Cooler Than Penguins? Tufted Puffins Are In Tuff!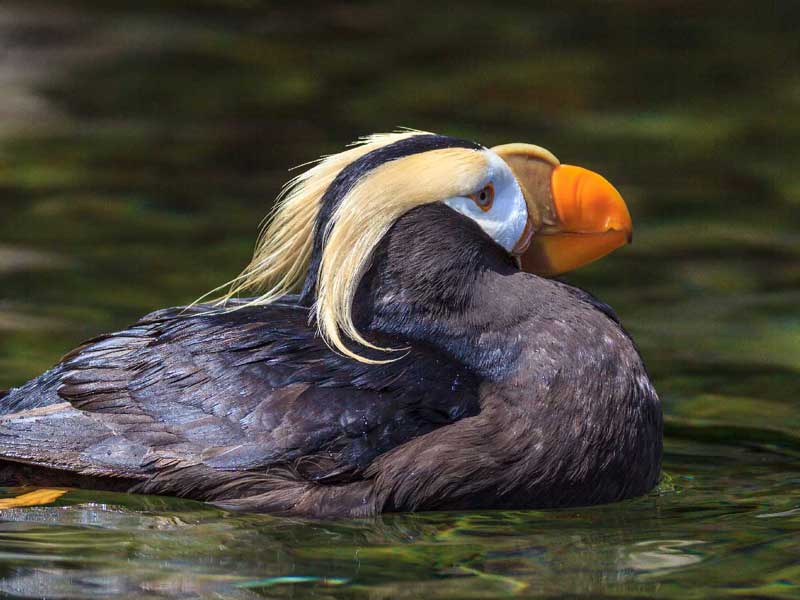 Perhaps looking more at home in a tropical jungle, Tufted Puffins actually call the rocky shorelines and cliffs around Tofino home. With one of the largest nesting areas in the world northwest of Tofino on Triangle Island, keen observers can see these unique birds as they transit and hunt to feed their hatchlings from June to September around Tofino.
Learn more about Tufted Puffins and book your Tofino Birdwatching Tour now!