Family Friendly Surfing In Tofino

Hi to all our friends from the Tofino Surf and Adventure Map! When you take a break from the family friendly surf beaches, make sure to experience these other ocean adventures in Tofino by booking your whale watching or bear watching tour.
Where to Surf With a Family in Tofino
Tofino, located in beautiful British Columbia, Canada, is not only a paradise for surf enthusiasts but also an ideal destination for families seeking memorable beach experiences. With its pristine coastline and gentle waves, Tofino offers a range of family-friendly surf beaches that cater to surfers of all ages and skill levels. In this article, we'll explore the top surf spots in Tofino, providing you with valuable insights on how to make the most of your family's surfing adventure.
South Chesterman Beach For Family Fun
As one of the most accessible surf beaches in Tofino, South Chesterman Beach is a fantastic option for families. Its long sandy shores and relatively mellow waves make it suitable for beginners and children. Parents can enjoy the waves while kids build sandcastles or get on a board themselves. Lessons from local surf schools are available for those looking to learn or improve their skills.
Cox Bay – Tops With Surfing Families
Cox Bay is renowned for its consistent waves, making it a favorite among surfers of all levels. This expansive beach offers ample space for families to spread out and enjoy the surf. The rolling waves provide a thrilling experience for more advanced surfers, while beginners can take advantage of the surf schools and instructors available. Walk-in access is a little longer with paid parking available at the main and Maltby lots.
Mackenzie Beach – A Calm Beach for Families Near Tofino
With its picturesque beauty and gentle waves, Mackenzie Beach is another excellent choice for families. This family-friendly surf spot provides a safe environment for children to learn and have fun in the water. Parents can relax on the sandy beach, watch their kids ride the waves, and soak up the incredible coastal scenery.Long Beach: Stretching over 16 kilometers, Long Beach is a must-visit destination for families seeking an unforgettable surfing adventure. This expansive beach offers a variety of surf breaks, catering to different skill levels. Beginners can find sheltered sections with smaller waves, while more experienced surfers can venture further for bigger swells. Long Beach is also known for its scenic beauty, with the lush rainforest backdrop adding to the magical surfing experience.
Long Beach – Perfect For Sunny Surfing With a Family
Long Beach, Pacific Rim National Park Reserve's longest beach, stretches for 16 kilometers (10 miles) along Vancouver Island's West Coast. Surfers from all over the world will be slicing through the crest of the waves at the north end of the beach. With a gradual flat bottom Long Beach can offer family friendly surfing near Tofino on smaller days.
Pay attention to posted signs, conditions in the moment and stay away from Luvkin Rock/Island were dangerous currents can form.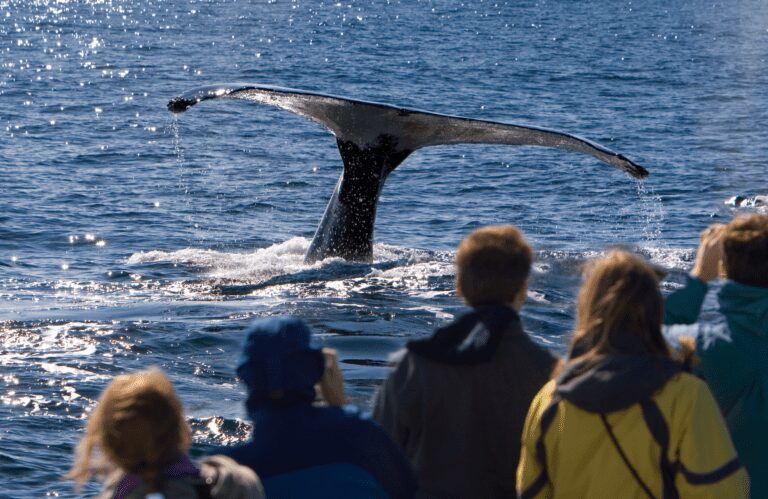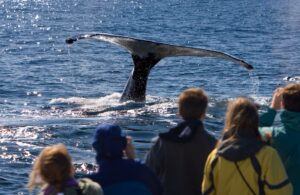 West Coast Aquatic Safaris offers small-group whale watching, bear viewing, and hot springs activities for an unforgettable adventure! Take a leisurely boat ride through the Clayoquot Sound inlets to observe black bears turning large rocks in search of crab.
Book your Tofino wildlife tour online, and discover the majesty of Tofino's beaches and wildlife.