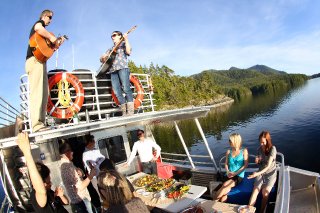 Wolf In The Fog Restaurant is the hot new spot in town about to open up.  Before they do West Coast Aquatic Safaris has Chef Nick Nutting lined up for our 2nd Dine Up The Inlet event as a part of Feast BC.  Saturday May 17th we will drift up Lemmon's Inlet for a couple of hours while we are entertained by the music of Smalltown Empire and enjoy some delicious food prepared for us by Chef Nutting and his team from Wolf In The Fog.
This event is a fundraiser for the Pacific Rim Whale Festival and all proceeds will be donated to this wonderful organization so they can continue their great work and bring Tofino a bigger and better festival each year.  Advance bookings are highly recommended as there are limited seats for special evening.  How to BOOK: use Book Now icon to your left, remember May 17th, or following this link or by contacting our team in the office.
The low cost of $119 per person you will enjoy and delightful evening tour up the inlet, food, wine and entertainment.  We look forward to having you with us!!!